Biography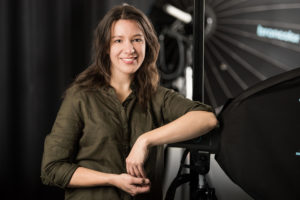 since 2017
producer and cinematographer at
"dein-showreel.com"
since 2015
freelancer (dept. camera & sound) at Westdeutscher Rundfunk Düsseldorf
since 2014
self-employed cinematographer and filmmaker for feature films, music videos and corporate videos
2007 – 2014
film & cinematography studies at University of Applied Science & Arts
2009
internship at Cinegate Köln
2008 – 2009
internship at Westdeutscher Rundfunk Köln

2005 – 2008
training as an audio visual media desiger at FlorianTv, Dortmund


Julia Kampmann was born on May 7th 1984 in Dortmund, Germany.
From 2005 to 2008 she was trained as an audiovisual media designer at FlorianTV in Dortmund. There she worked as a cinematographer and editor for television formats such as news, live shows, documentaries and corporate videos.
Film has always been her biggest passion. Hence in September 2007 she began to study Film & Cinematography at the film school Fachhochschule Dortmund while she was still in her final training year as an audio visual media designer.
In 2009 she won the Baden Baden Award with her first short film 'Sitting Waiting Wishing' in which she served as the author, director, cinematographer and editor.
During her study period at Fachhochschule Dortmund Julia Kampmann took part in several short films as a cinematographer and producer. 'Nach ihnen' (2009) and 'Schwester' (2010), two short films which originated in cooperation with directing students from IFS Cologne, used to run at German film festivals. The short film 'Ramon' (2013) even received international response and was nominated for Best Short Narrative at the Sunscreen Film Festival in Florida and the Portobello Film Festival in London.
As a filmmaker Julia Kampmann produced her first documentary film 'Vuvu's Small Shack' with the support of Augusta Stiftung Bochum. The film was shot in a Township in Capetown (South Africa) in 2011, where she operated as the director and cinematographer of the film.
In August 2014 she successfully graduated from film school with her short film 'Wächter der Spieluhr – Keeper of the Past' (www.keeperofthepast-movie.com). She came up with the idea to the film in summer 2013 and developed the story together with fellow student Michael Cherdchupan and director Marco J. Riedl who also wrote the screenplay for the film. During production she operated as the cinematographer and producer of the film.
'Wächter der Spieluhr – Keeper of the Past'  has won several awards at national and international film festivals, for example the Los Angeles Movie Awards in 5 categories, including Best Short Film and Best International Film.
Since 2014 Julia Kampmann has worked as a cinematographer and filmmaker for feature films, music videos and corporate videos.
Her latest project is the feature film 'Frieda – Coming Home', produced and directed by Michael W. Driesch. She operated as the cinematographer of the film, which was shot in November/December 2018 in Düsseldorf, Krefeld and New York. The movie will be released in 2020 and has its premiere on the 25th of January at the Snowdance Independent Film Festival in Landsberg am Lech.
Filmography / Selection
2020
Frieda – Coming Home, 91 min, Feature Film, Germany (4K RAW)
Production: Xamaram Entertainment, Director: Michael W. Driesch, DOP: Julia Kampmann
2016
Sercan – Gidenin Acisi, 4 min, Music Video, Germany (HD)
Production: Ahmadi Produktion, Director: Lena Ahmadi Khouki, DOP: Julia Kampmann
2015
Wächter der Spieluhr – Keeper of the Past, 28 min, Short Film, Germany (4K, Red Epic)
Production: Julia Kampmann, Director: Marco J. Riedl, DOP: Julia Kampmann
2014
Flash Gordo, 15 min, Short Film, Germany (HD)
Production: Anette Jadczak, Director: Anette Jadczak, DOP: Julia Kampmann
2013
Ramon, 15 min, Short Film, Germany (HD)
Production: Thandom Media, Director: Benedikt Schatz, DOP: Julia Kampmann
2012
Evans Izuwa, 38 min, Documentary Film, Germany (HD)
Production: FH Dortmund, Director: Marcel Götte, DOP/Editor: Julia Kampmann
Boris Gott, 30 min, Concert Film, Germany (HD)
Production: Boris Gott, Director/DOP: Julia Kampmann
2011
Ich kann was!, 14 min, Documentary Film, Germany (SD)
Production: Deutsche Telekom, Director/DOP/Editor: Julia Kampmann
Vuvu's Small Shack, 30 min, Documentary Film, South Africa (HD)
Production: Julia Kampmann, Director/DOP/Editor: Julia Kampmann
2010
Schwester, 4 Min, Short Film, Germany (Super 16)
Production: ifs Köln/FH Dortmund' Director: Eleni Katsoni, DOP: Julia Kampmann
Jugend forscht, 30 min, Documentary Film, Germany (HD)
Production: ThyssenKrupp/Universität Dortmund, Chief Editor: Heike Mund, DOP: Julia Kampmann
2009
Nach Ihnen, 7 Min, Short Film, Germany (HD)
Production: ifs Köln/FH Dortmund, Director: Eleni Katsoni, DOP: Julia Kampmann
The Heap – Nice but dim, 4 Min, Music Video, Germany (HD)
Production: The Heap, Director: Lasse Speer, DOP/Editor: Julia Kampmann
2008
Paranoia, 6 Min, Short Film, Germany (16mm)
Production: Julia Kampmann/FH Dortmund, Screenwriter/Director: Julia Kampmann, DOP: Marcel Götte
Ein ganz gewöhnlicher Augenblick, 5 Min, Short Film, Germany (16mm)
Production: Julia Kampmann/FH Dortmund, Director: Anette Jadczak, DOP: Julia Kampmann
Dämon, 3 Min, Art-house Film, Italy (16mm)
Production: FH Dortmund, Director/DOP/Editor: Julia Kampmann
Sehnsucht, 4 Min, Short Film, Germany (Super 16)
Production: Julia Kampmann/FH Dortmund, Director: Julia Kampmann, DOP: Julia Kampmann, Marcel Götte
Sitting Waiting Wishing, 4 Min, Short Film, Germany (SD)
Production: FlorianTV, Screenwriter/Director/DOP/Editor: Julia Kampmann