Plot
A young American couple, Mark and Olivia, are expecting their first child. Before that, they want to make their dream of a trip to Europe come true. They book private accommodations through an Internet portal and embark on their 4-weeks-journey.
On their arrival in Germany Elisabeth picks them up at the airport. She is the daughter of the landlady of Mark and Olivias first accommodation, a tiny house, located at a beautiful lake, in the hometown of Olivia's great-grandparents.
Mark and Olivia spend their first night in Germany. A night in which Mark gets to know the owner in a special way.
The next morning, it is strangely quiet over the house by the lake and no one will know so quickly what happened a few hours ago.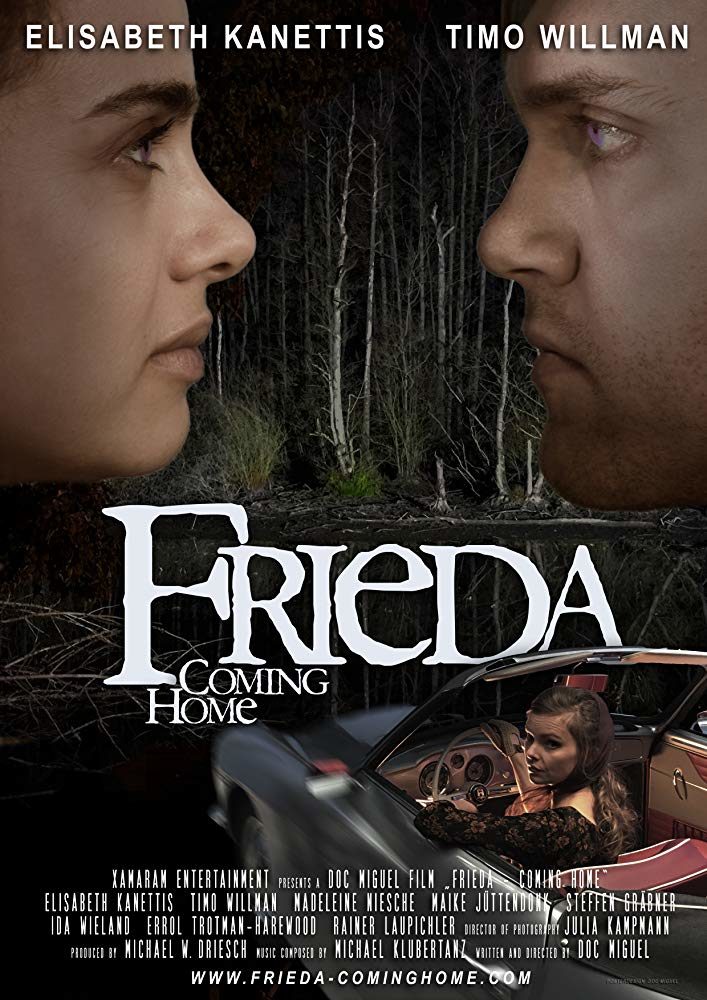 Production Details

Country of Production: Germany
Year of Production: 2020
Runtime: 91 min
Genre: Mystery, Thriller, Romance
Format: 2,39 : 1
Film Locations: Düsseldorf, Krefeld, New York (USA)
Production: Xamaram Entertainment
Script/Director: Michael W. Driesch
Producer: Michael W. Driesch
Director of Photography: Julia Kampmann
Editor: Michael W. Driesch
Sound: Moritz Minhöfer
Music: Michael Klubertanz
Cast: Elisabeth Kanettis / Timo Willman / Madeleine Niesche / Maike Jüttendonk
Official Website: www.frieda-cominghome.com

Awards
2019 – Accolade Global Film Competition (USA) – Award of Merit (Movie Trailer)
2019 – Cult Critic Movie Awards – Best Trailer
2019 – LIAFF – L'Age d'Or Int. Arthouse Film Festival – Best Movie Trailer
2019 – Calcutta Int. Cult Film Festival – Best Movie Trailer
2019 – Five Continents International Film Festival – Best Movie Trailer
2019 – Beyond Earth Film Festival – Best Movie Trailer
2019 – South Film and Arts Academy Festival – Best Trailer
Nominations & Screenings
2020 – Snowdance Independent Film Festival – German Premiere
2019 – Creation International Film Festival – Best Trailer
2019 – Beyond Earth Film Festival (Indien) – Best Trailer
2019 – South Film and Arts Academy Festival – Best Movie Trailer
2019 – The European Independent Film Awards – Best Trailer
2019 – Aphrodite Film Awards, New York – Movie Trailer
2019 – Five Continents International Film Festival – Best Trailer
2019 – Direct Monthly Online Film Festival – Best Trailer