Plot
Accepting life as it comes is our decision to make!
Farmer Finn van Hagen begins a New Life and moves with his wife and his two children out to the country. He now lives on an old, idyllic farm, in the middle of nowhere…to his eyes, in a Perfect World.
One day a Stranger appears, out of the blue. He asks Finn strange questions and tries to draw a well-kept secret from his daughter Verlanda: The whereabouts of a music box, in which Finn's past lies hidden..a past, he has long forgotten…
If Finn should ever open the music box…
…he not only might lose his family forever…
…he also might bring it to cave in…the World as he knows it.
The Decision is his…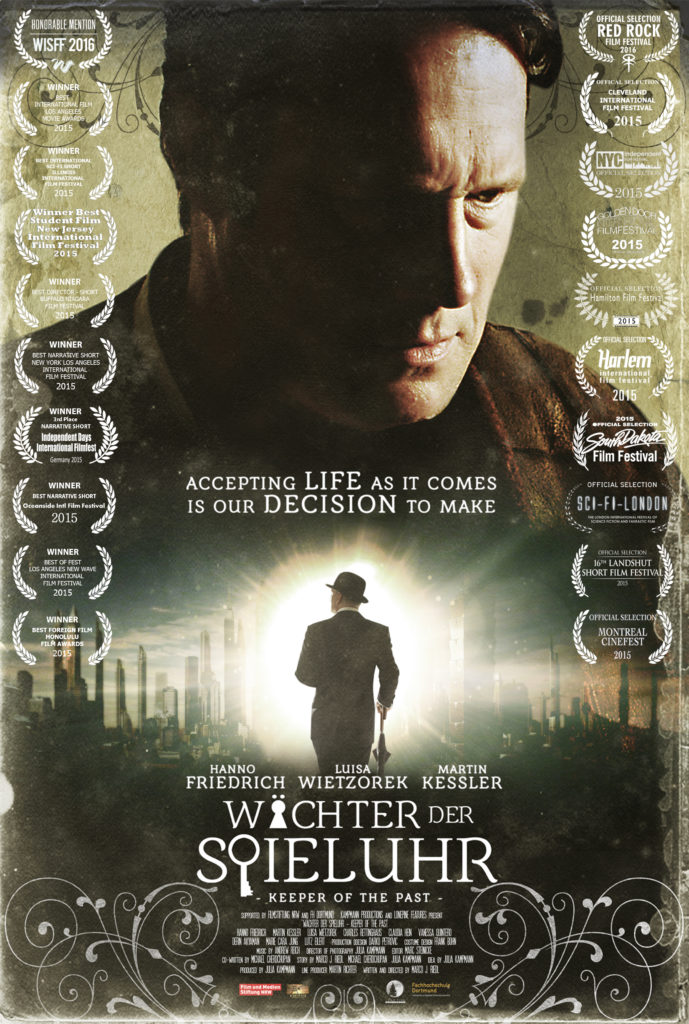 Production Details

Country of Production: Germany
Year of Production: 2015
Runtime: 28 min
Genre: Fantasy, Drama
Format: 2,35 : 1 / Full HD
Film Locations: Overath/Lindlar/Essen/Dortmund
Production: Kampmann Productions/University of Applied Science and Arts
Idea/Story: Julia Kampmann
Script/Director: Marco J. Riedl
Producer: Julia Kampmann
Director of Photography: Julia Kampmann
Editor: Marc Steinicke
Sound: Markus Böhm
Music: Andrew Reich
Cast: Hanno Friedrich / Luisa Wietzorek / Martin Keßler
Official Website: www.keeperofthepast-movie.com

Awards
2016 – Windrider International Student Film Festival (LA, California) – Honorable Mention Award (Live-Action Short Film)
2015 – Nevada Film Festival (USA) – Platinum Award – Short Film Competition
2015 – Oregon Film Awards (USA) – Platinum Award – Short Film Competition
2015 – Oceanside International Film Festival (California, USA) – Best Narrative Short Film
2015 – New Jersey International Film Festival (USA) – Best Student Film
2015 – Los Angeles Film Review Independent Film Awards (California, USA)Best Production Design, Best Costume, Best Visual Effects
2015 – Los Angeles New Wave International Film Festival (California, USA) – Best of Fest, Best Director, Best Editing
2015 – NYLA International Film Festival – NY Screening (USA) – Best Narrative Short, Best Director, Best Actress
2015 – Honolulu Film Awards (Hawaii, USA) – Best Foreign Film
2015 – Illinois International Film Festival (USA)– Best International Sci-Fi -Short
2015 – Independent Days Filmfest Karlsruhe (Germany)– 3rd Place, Narrative Short
2015 – Buffalo Niagara Film Festival (New York, USA) – Best Director – Short
2015 – Los Angeles Movie Awards (USA) – Best Narrative Short, Best International Film, Best Director, Best Actress, Best Editing
Nominations & Screenings
2017 – Film & Comic Con Karlsruhe (Germany) – No Awards Given
2016 – Red Rock Film Festival (Utah, USA) – Narrative Short
2016 – Dortmunder XXS-Kurzfilmfestival (Germany) – Best Short
2016 – Dortmunder Tresen-Filmfestival (Germany) – Best of Fest
2016 – Internationales Frauenfilmfestival (Dortmund/Köln, Germany) – Best Cinematography (Short Film)
2016 – Flickers' Roving Eye International Film Festival (Rhode Island, USA) – Narrative Short
2015 – Red Rock Film Festival (Utah, USA) – Narrative Short
2015 – Hamilton Film Festival (Ontario, Canada) – Narrative Short
2015 – NYC Independent Film Festival (New York City, USA) – Narrative Short
2015 – Stark County Int. Short Film Series (Ohio, USA) – No Awards Given
2015 – South Dakota Film Festival (Aberdeen, USA) – Narrative Short
2015 – Golden Door International Film Festival (New Jersey, USA) – Narrative Short
2015 – Cheyenne F.A.S.T. Film Festival (Wyoming, USA) – No Awards Given
2015 – Festival du Film International de Saint-Sauveur (France) – No Awards Given
2015 – El Dorado Film Festival (Arkansas, USA) – Narrative Short
2015 – Harlem International Film Festival (New York, USA) – Narrative Short
2015 – Shorts at Moonlight (Hofheim, Germany) – Narrative Short
2015 – Montreal CineFest (Québec, Canada) – Narrative Short
2015 – Sci-Fi-London Film Festival (UK) – No Awards Given
2015 – Long Island International Film Expo (New York, UY>) – Narrative Short, Best Cinematography
2015 – Sunscreen Film Festival (St. Petersburg, Florida) – Foreign Short
2015 – Sacramento International Film Festival (California, USA) – Narrative Short/Long (20-40 min)
2015 – North Hollywood Cinefest (Los Angeles, USA) – Best Narrative Short
2015 – Cleveland International Film Festival (Ohio, USA) – Narrative Short
2015 – Landshuter Kurzfilmfestival (Landshut, Germany) – Best Short
2015 – Genrenale Filmfestival (Berlin, Germany) – Narrative Short